Why You Should Use A Bicycle Cleaning Kit
Let's talk frankly for a second here- what is the absolute last thing you feel like doing after conquering mountain trails, are covered in mud, blood and grit and are sore, battered and tired?
I know the answer is a well-deserved shower & meal before you proceed to crash for the foreseeable rest of the day. But take a second to think about your trusty steed- your beloved bike.
Just like you, it's just been to hell and back, and is in a right state; mud caked between the cogs as it is under your fingernails.
We know it's a downright hindrance to clean your bike after a ride, but unless you want to be spending a fortune replacing worn out, rusty parts, it's worth taking the painful time necessary to make sure your bike is in spick and span condition for the next time you ride.
We know how annoying this can be, and that's why we've compiled a definitive list of the best bicycle cleaning kit types, kits and pressure washers.
Different Types of Bicycle Cleaning Kits
There are a diverse range of options when it comes to bicycle cleaning kits, and many different routes you can go. Besides pressure washing, most of these options will be hand washing variations, however these consist of many options to choose from:
Brushes:
When it comes to brushes, they most often come in kits. This is for the simple reason that different bristle harnesses are used for different applications.
Softer bristled brushes are generally good for more delicate work, such as removing dust, light dirt and road grime from areas like the frame, while a soft cone shaped brush is better suited to the wheels and tight spaces.
In terms of hard bristled brushes, they are better suited to caked, stubborn grit and grime, and generally work better on finicky areas like cassettes, between spokes and hard to reach spots.
The Good Old Bucket, Hose and Sponge:
While some argue dousing your bike in water generally isn't a good idea and can lead to rust and premature wear, it's unavoidable to use water in the washing process.
Whether this means a pressure washer, hosepipe, or bucket and sponge; you're going to end up using water anyway. Use water to loosen up initial dirt, apply your cleaning solution and scrub, then finally rinse the water off again.
Simple! Just make sure if you're using a pressure washer not to spray it directly anywhere near the suspension pivot cups, headset or bottom bracket or you could run the risk of washing dirt in, and the all-important lubrication out.
Chain Cleaner:
In a previous article; Mountain Bike Maintenance, we covered the in-depth procedure on how to properly clean a bike chain.
Basically, you don't need to clean a chain after absolutely every ride, however once in a while it's definitely a good idea to do so as it'll greatly extend the life of your chain, and it does run your drivetrain after all.
You'll want an appropriate cleaning solvent to apply first, followed by a bike soap with water, and when it's clean you'll need some lube to ensure it runs smoothly after!
Degreaser:
Degreaser is chemistry's answer to the scrubbing brush. It utilizes chemicals which attack and break down grease and grime without harming your bike or applying any elbow grease whatsoever.
This type of spray is particularly good for areas of the bike like in the drivetrain, or chain where you wouldn't want to use excessive force and manually scrub, risking damaging something.
Liquid Bike Washing Solutions:
Many people swear by dishwashing detergent and a bucket of water.
However, dedicated bicycle cleaning concentrates and solutions are generally safe for bike materials like metal and carbon fibre, so as to promote the longevity of your parts while removing dirt.
Some leave a residue, so make sure to rinse after use!
Bike & Brake Cleaner Spray:
Brakes, discs and callipers also get full of dirt and mud every now and then and could use a cleaning.
A good brake cleaner should remove grime without affecting performance. As far as bike cleaning sprays, these can be used alone or in conjunction with solutions to remove stubborn grit.
It eats into the dirt and softens it up, making it easier to purge.
Polish:
With that even more-so deserver R&R in mind now after the taxing ride and gruelling cleaning job, we are happy to inform you that the job is done.
Well, nearly. Now that all the dirt is gone, you'll want to apply a thin coat of a bike polish.
Something that is moisture dispersant (waterproof essentially, water rolls off), or made out of PTFE (same material as non-stick pans) will work excellently, and make the next cleaning job a walk in the park.
However, seeing as these products by nature reduce friction, make sure to keep the spray well away from brakes and wheels, as it could severely hamper performance and be incredibly dangerous.
Remove/cover these parts as needed.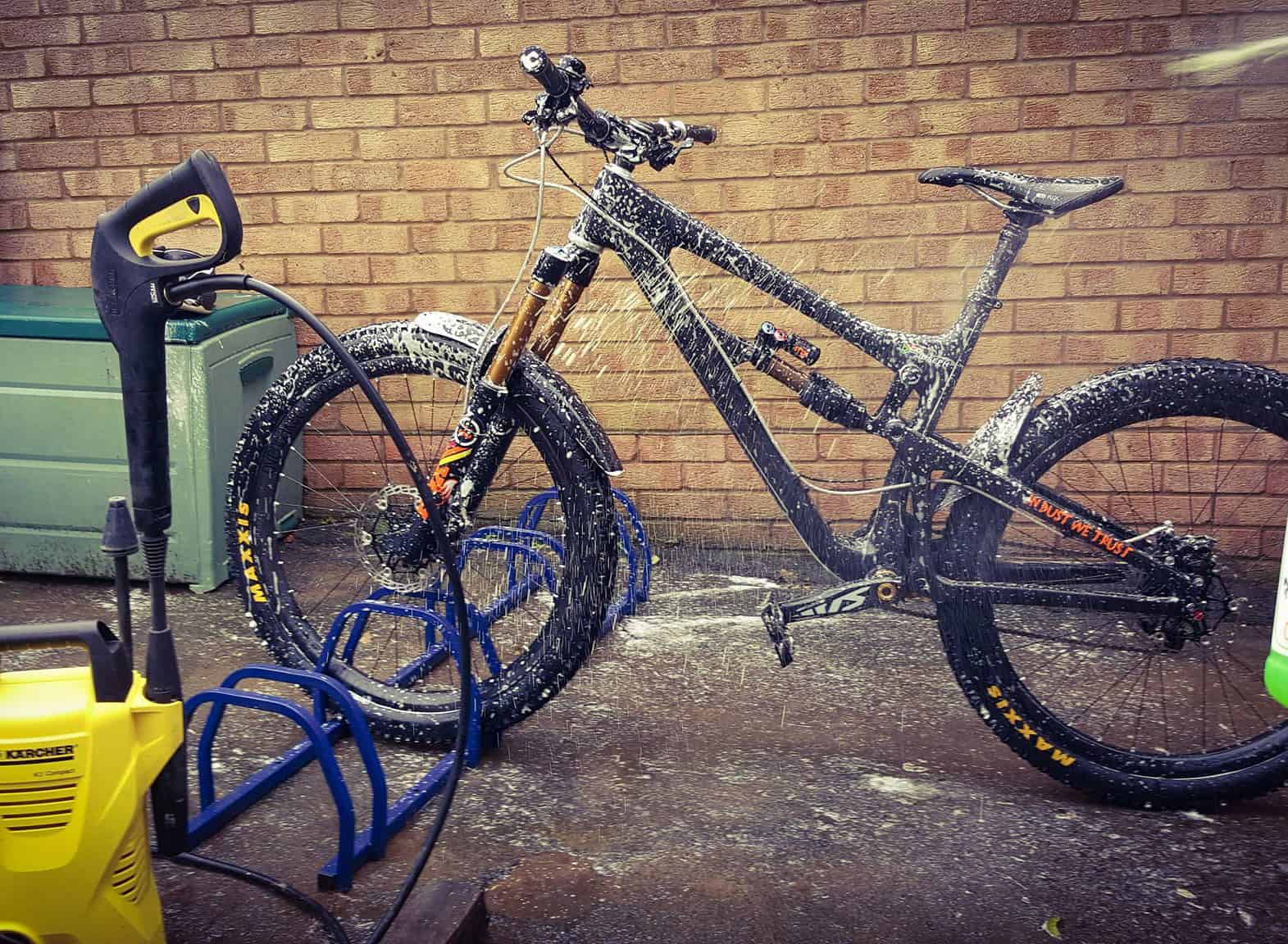 Our Top 4 Bike Cleaning Kits
Muc Off – 250US 8 in 1 Bicycle Cleaning Kit
Now, thus far all the kits listed are for the most part lacking one thing- any chemical cleaning detergents, soaps and so forth, besides the Park Tool ChainBrite fluid.
This kit makes cleaning your bike an absolute breeze, and includes the following: 1 x Bottle of Nano Tech Bike Cleaner, 4 x Cleaning Brushes, 1 x Aerosol Can Bike Protect, 1 x Storage Tub, 1 x Bike Cleaning Sponge; all Muc Offs' best products in one comprehensive package.
This does come at a fairly hefty price tag, but for the quality and quantity of what you're getting it's well worth it. The included bottle of their infamous award-winning pink spay cleaner utilizes nano technology to strip the dirt off your bike like corn off the cob.
The included bike protector creates a protective seal to protect your bike for the future, and all the cleaning tools included are of exceptional quality.
This post-ride essential bicycle cleaning kit is suitable for any bikes, and makes cleaning a breeze, straight out the box.
Park Tool CG-2.4 Chain Gang Bicycle Chain Cleaning System
For the first kit, we decided to include a chin cleaning-exclusive kit. Why you ask?
Well think back to the last time you cleaned your chain, and that should answer your question. And what better kit to kick this list off than the Park Tool chain cleaning kit?!
This kit is the complete cleaning solution for cleaning bike chains, rear cogs, and chainrings. Inside, you'll find the following: the main attraction; the Cyclone Chain Scrubber, which conveniently attaches to your chain for quick, painless cleaning.
Next, is the GearClean brush, which hits all those hard to get to spots between gears that accumulate dirt.
Finally, is a bottle of ChainBrite Chain and Component Cleaning Fluid, which is specifically for bike use meaning it is plant-based and will not harm alloy, plastic, rubber or carbon fibre.
SINGARE 7pcs Bicycle Bike Cleaning Tools Set
Next on our list, is more of a broad-spectrum brush set bike cleaning kit that gives incredible bang for your buck.
The only thing you may need is cleaning liquid, but every brush, scrubber and tool you'd need for cleaning off dirt is included in this kit.
The tools are all constructed of a high-quality composite plastic and coral material. They are small, light and easy to transport.
The bicycle cleaning kit includes a total of 7 useful tools, including a cleaning mitt, tapered detail brush, tire scrubber, gear clean scraper, gear clean brush, frame tube cleaning brush and finally a chain brush.
This kit will suit just about any bike type, and is super quick and easy to do basic cleaning and maintenance, removing dirt in a flash.
Oumers Bike Clean Brush Kit 8 Piece Bicycle Cleaning Tool
For the sake of variety, we added another 8-piece comprehensive bicycle cleaning kit to the list.
Oumers is a renowned name in the biking industry, and this kit proves why. This kit includes an assortment of brushes including: Bike cleaning mitt, gear cleaning scraper, gear cleaning brush, tapered detailing brush, tire scrubber, 3-sided bristles, duster cloth and a frame tube cleaning brush.
All these tools are high quality, ergonomically designed and super easy to use. Like most similar tools, they are primarily made of plastic and coral, which are the sturdiest and most durable materials for the job.
These tools can be used on any sorts of bikes, and there is a tool for each and every crevice and corner, so rest assured you'll have the tools on hand to keep your bike looking spiffy for years to come.
Our Top Bike Pressure Washers
Bicycle Pressure Washer Bundle
Besides handwashing, if you'd prefer to spend the money and save the effort, you could invest in a pressure washing system.
And to kick off our list of the best pressure washers, we've included one of the sole few bike-specific pressure washers by Muc Off, which means it won't damage your beloved ride.
It is specifically engineered to be 100% safe for bearings and suspension parts! The Muc-Off Bicycle Pressure Washer Bundle also includes a selection of our ultimate bike cleaning essentials to get you going.
You'll find a bottle of their 1 Litre Nano Tech Bike Cleaner, 1 Litre Bike Cleaner Concentrate, 500ml Bio Dr. Because of this, they utilize 3 different lances, as well as one adjustable lance; the Snow Foam lance that can be fitted straight to your Muc-Off Nano Tech Cleaner to product a high-quality, thick foam for a deeper clean. (Be warned, this is intensely satisfying and fun.)
It also comes with a dry storage bag, which make it all the more convenient and easier to use and stow away after. An excellent product for maximum efficiency, and minimum effort!
M

rliance Battery Power Washer, 960PSI Portable Power Washer
Next up, we have the cordless power washer from Mrliance. It is ultra-portable due to the compact, cordless design and can get the job done almost anywhere, so with the 40v battery you could technically even whip it out after coming straight off the trail.
With a max power output of 960 PSI and 1.2GPM, you could literally blast dirt into the stratosphere, however we'd recommend using the lower power setting for bicycle cleaning use.
The washer utilizes two-way suction, so you can even use the product when there is no water source nearby. It also features an adjustable nozzle with 6 different power output modes, including angle pressures, foam jetting, shower mode etc.
Finally, it has a safety mechanism as this product is incredibly powerful, to ensure safety while you get maximum cleaning benefit and convenience for your bike!
Conclusion:
So, that concludes our list of the best bicycle cleaning kits and pressure washers.
Now that you're clued up on the importance of washing your bike and the ways you can go about doing it, you are left with the choice: By hand, or by pressure washer?
If going with the former, just remember it can be time consuming, and you should definitely get a quality set of brushes as well as cleaning detergents, degreasers and protectors for the best finish, and a lasting shine.
If going the latter route, make sure not to sue too high of a pressure, as this can damage your suspension and headsets etc, depending on the strength of your seals. So, with that in mind, keep on shining, and keep on riding!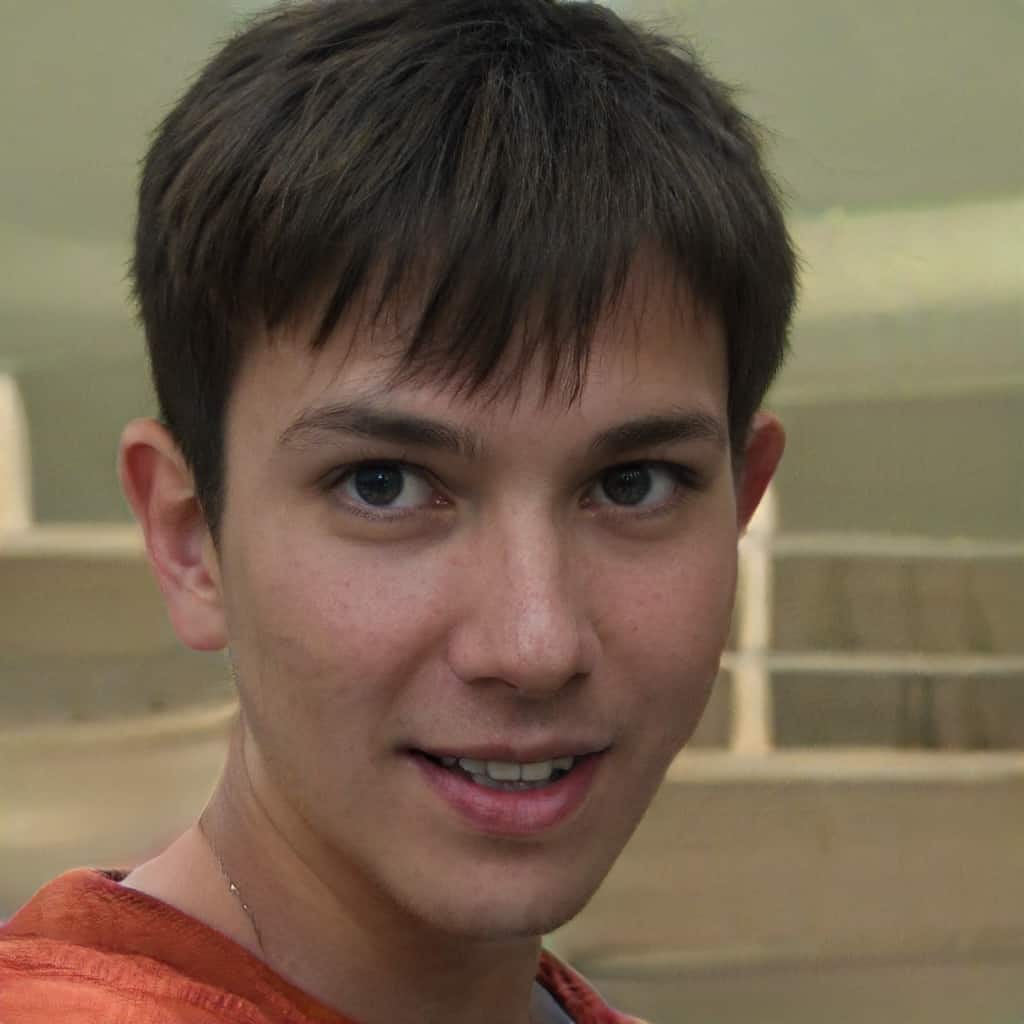 I'm James Duff, a 29-year-old from Orange, California, fueled by a lifelong passion for bikes. From childhood pedaling to exploring BMX tricks and tackling mountain trails, biking has been my constant. Now, I'm translating that love into words on this blog. Join me in discovering the thrilling world of biking, as I share insights, gear essentials, and personal adventures. Let's journey together through the exhilarating realm of cycling.