So, you've just come careering down a steep mountain track, taken a huge impact, and now you're on the phone to your buddy asking him to come fetch you from, um… the middle of nowhere, all the while watching your tire slowly deflate because you don't have a saddle bag to carry the necessary repair kit.
Don't be that person. All jokes aside, in order to not let this situation, happen to you, it is essential to come prepared.
A proper saddle bag will ensure that you carry with your essential gear such as a spare inner tube, patch and repair kits, gels and tools, tire levers, inflators and Co2 cannisters, without having the cumbersome and uncomfortable task of carrying these things on your back in pouches.
The 13 Best Bicycle Saddle Bags
Because it can get confusing to select which is best for you with the many thousands of options out there, we have compiled a list of the the 15 best bicycle saddle bags on the market right now.
Cyckit's Aeroclam P1
Coming in number one and in two sizes (large and small), is the Cyckit Aeroclaim P1. Designed in New Zealand, this saddlebag sports a very compact and discreet aesthetic, you can hardly notice it's there (perfect for low profile riders).
Because of the innovative sleek design, the bag caters very well to aerodynamics and the least possible amount of air drag possible.
Additionally, it is watertight for wetter conditions and the zip is smooth, which ensures no haggling to get your essentials out, no matter the conditions.
The build itself consists of high-quality injection molded plastic, 1.5mm thick and UV resistant. This means that it'll see you through countless rides without degrading or wearing.
Weighing just 4.5 ounces and measuring 3.9 x 4.5 x 2inches, this bag is compact yet big enough for all your essentials. It mounts solidly to the saddle, so say goodbye to infuriating rattling, rubbing and wearing due to a poor fit.
No products found.
BV Bicycle Strap-On Bike Saddle Bag
Put together with high quality, impact resistant mesh fabric, this saddlebag is both light weight and durable, the two crucial features that should be a staple for any modern saddlebag.
This bag is the perfect size for holding any essentials (available in three sizes), and on the outside features a nifty, snug mesh pocket ideal for holding any extras like perhaps a phone or wallet.
Additionally, it has a key clip to ensure your keys don't go astray on a cycle. Looping around the metal pieces on the seat's underside, this bag has a secure and stable fit to most saddles.
With the user's safety in mind, they have cleverly fitted the bag with 3M Scotchlite tape as well as a taillight hanger BV are so confident about their quality that they even include a guarantee and limited time warranty!
TecTri Strap-On Bike Seat Pack Bag
Coming in next is the sleek, modern looking TecTri Saddlebag. Featuring a massive capacity of 1.2l, you're pretty much a mobile bicycle mechanic.
There is ample space for all the tools you could possibly need, and accessing them is as easy as opening the bag from the easy-to-use side opening. It is constructed of a hardy denim fabric, EVA and features an internal mesh pocket for secure holding of valuables.
They fully considered the safety of the user with this product, giving it a 3M reflective tape trim, as well as a hanging spot for the included, bright LED taillight.
These factors ensure the rider is seen in low-light or night riding situations. No need to stress if you find yourself in wet conditions, as this product is watertight, and thanks to the double-strand nylon PU outer casing your valuables and tools won't be getting wet.
This product is of good quality and doesn't deform easily, and will securely strap-mount to your saddle.
ROCKBROS Bike Seat Bag Waterproof Bicycle Saddle Bag
This unique bag isn't exactly low profile, but there is a very good reason for this.
That is, despite all the saddlebag manufacturers claiming that there is no way their bag could accidentally dismount and fall off, the reality is that due to the jarring, shock filled nature of riding, these things do tend to happen, and if it does rather be safe than sorry.
The 3D shell design is shock-absorbing provided the bag does fall. The straps have also been strengthened since the previous generation and the bag fits like a glove onto the saddle.
The zip and fabric are rain/waterproof for wet conditions, and there is a hook to accommodate a taillight as well as reflective tape for good visibility and safety in low-light conditions.
The bag itself attaches solidly & simply via 2 stickup straps and a rubber buckle. Last off, RockBros give their customers a lifetime guarantee as well as competent customer service, should there be any issues with the bag.
Topeak Aero Wedge Velcro Pack
The Aero Wedge perfectly describes itself in the name, being a wedge- shaped bag that caters to a smooth riding experience, designed to reduce drag and be aerodynamically efficient.
Coming in 4 different sizes, this bag is perfect for any amount of gear that you should choose to ride with, from minimalists to paranoid cyclists convinced that both tires are bound to pop in a cycle.
Made of high-quality 1200 denier nylon material, this bag is suitable for amateur and competitive riders alike, featuring large zipped openings for easy access and to accommodate whatever you can fit in it.
The exterior of the bag is coated in a waterproofing agent for wet conditions, and there is a 3M reflective strip and a RedLite clip on the rear to ensure the safety of the user. Finally, the bag mounts onto the saddle via nylon straps and a buckle. This is an easy to use, sturdy option.
Lizard Skins Cache Saddle Bag
Despite the name, this product is PETA approved. All jokes aside, the cache is just that, a safe, well-made and secure holding space for all your equipment on a ride.
One limiting factor to this product to be considered, is the size. Coming in at 5 x 10 x 3inches, it will struggle to fit things like phones and more than say one tube and Co2 cartridge.
However, if you are a minimalist or it is not absolutely necessary to have a full two tyre repair kit on you, this bag is for you. It is very lightweight, and features innovative sloping straps for a lower profile fit.
On the interior there is a divider, and on the exterior, the logo is reflective and there is a hanger for a light.
Finally, it features the highest quality YKK zips, so you'll never have to worry about niggly caught zips again, and is water resistant thanks to the 1000d nylon construction.
PDEEY Bike Saddle Bag Waterproof Bike Bag
Constructed of ergonomically pleasing, high quality 600d Oxford as well as PU fabric, PDEEY pride themselves on workmanship, and lasting quality.
This material is ideally suited to rough terrain and off-road biking, being not only easier to clean mud and debris off than other materials, but also water and tear resistant.
The seams holding it together are hemmed and crimped, so even if stuffed full time and time again the seams won't tear. The bag is large and has plenty of capacity for tools and valuables, however featuring an angular tapered design it isn't bulky and connects securely/disconnects within seconds from the saddle, making it super convenient to use.
The zipper is durable and laminated, meaning it is waterproof. Finally, they are so confident in their workmanship, that they provide a 1-year warranty should there be any dissatisfaction with the product.
Dominick Bike Saddle Bag Water Resistant
For the riders that love thrashing their way through tough terrain without worrying about wear and tear, this heavy duty tearproof, rainproof bag is for you.
Constructed of a durable waxed nylon material, a waterproof zipper and solid straps with buckles, you not only don't have to worry about getting your things wet, but also it is easy to clean and you won't have to worry about it falling off your bike.
It's not the largest bag, but at 2.4 x 3.2 x 7.9 inches and 0.8l capacity it does the job, big enough for valuables/tools etc. On the interior there is a good old mesh pocket as well as key clip to prevent objects clanging together when riding.
Finally, again with safety in mind Dominick included a reflective strip and a mounting loop for a taillight.
Aero Wedge Pack, w/ Fixer F25
Coming to you by the same company that made the hit Cache bag, it is essentially the same design, however the kicker being that this one features the nifty QuickClick quick mount/dismount mounting fixer.
It also boasts a seat post strap for a snug, secure and worry-free fit. To briefly give a rundown of the bag itself, it is pretty much the same as the Cache, being a wedge- shaped bag designed to reduce drag and be aerodynamically efficient.
Made of high-quality 1200 denier nylon material, this bag is suitable for amateur and competitive riders alike, featuring large zipped openings for easy access and to accommodate whatever you can fit in it.
The exterior of the bag is coated in a waterproofing agent for wet conditions, and there is a 3M reflective strip and a RedLite clip on the rear to ensure the safety of the user.
A solid option for a cyclist of any level that needs to store their goods in a worry free, secure stowaway.
PRO Medi Strap Bicycle Saddle Bag (Black)
The middle-sized option out of 3, it offers the best of both worlds regarding a fairly compact size and all the 0.6l capacity you need to store ample essentials like a tube, inflator, cannisters and a tool etc.
It has a sleek design, hardly noticeable at a glance when strapped securely to the saddle via either a strap or a quick-release mount. It features reflective piping and logo all the way around for safety, as well as two exterior side compartments for keys/valuables etc.
While the material itself isn't waterproof which is definitely needed to be taken into consideration, it is made of a tough, durable and eco-friendly PVC material.
This is a good option, being simple to use, spacious, eco-friendly and sleek looking (also meaning it won't get in the way, look bulky or not adhere to the saddle properly.)
SpeedSleev Ranger Cycling Adventure Pack (Black)
This product I essentially the largest (Ranger+) version of the base model SpeedSleev Ranger, obviously with a much greater capacity, holding either more or larger equipment, like bigger tire tubes or more Co2 tubes etc.
It is more angled toward rider's with larger wheels/ more need for essential equipment and tools when riding. Despite its larger size, it is still incredibly lightweight and non-obtrusive.
It connects solidly to the saddle with Velcro traps, and is very sturdy. Constructed using high quality, water resistant mesh, this bag is pretty ideal for road or mountain bikers alike, adapting to whatever conditions necessary, come rain or shine.
It does the job, and is competitively priced. A solid option for all types of riders wanting to stow away their essentials and valuables, although it may be a bit of a tight fit for phones on the bigger side.
Fizik Saddle Bag with Velcro Straps
This design is covert yet striking, subtle yet elegant. Constructed of a Cardura material, it forms a shell-like shape and is extremely tough, hard wearing and impact resistant.
From the inside, there is a mesh pocket that keeps all your essential tools/valuable goods neatly organized and prevents bouncing around during riding and jarring. It is not the biggest but definitely has enough space for the essentials.
Moving to the exterior, besides the appealing and tough Cardura material which you won't want to take your eyes off, it features a water-resistant zipper all the way around and an innovative semi-auto lock puller to keep your goods safely inside.
It features reflective piping around the bag, as well as a reflective logo to ensure the rider is seen by cars in low-light. Finally, it features Velcro straps, ensuring a secure fit to any bike.
ROCKBROS Bike Saddle Bags with Water Bottle Pouch
If an all-in-one, kill two birds with one stone system is what you've been searching for, look no further.
The genius Rockbros bag with water bottle holder features a whopping 1.6l capacity, there is ample space for not only riding essentials and valuables, but you could probably even sneak in an energy bar or something alike.
This essentially means this is the only piece of kit you'll need to bring on a cycle, eliminating the need for a bulky backpack or uncomfortable filled up vest.
On the interior there are two mesh pouches perfect for keeping your gear secure and separate, with another on the exterior for the water bottle.
The thickened spongy exterior keeps everything inside safe, and the easy to clean, waterproof zipper and carbon microfiber build keeps everything dry.
It features two reflective light hoops, and will fit most saddles exceeding 25cm. One of the best options in terms of value for money and convenience in our opinion.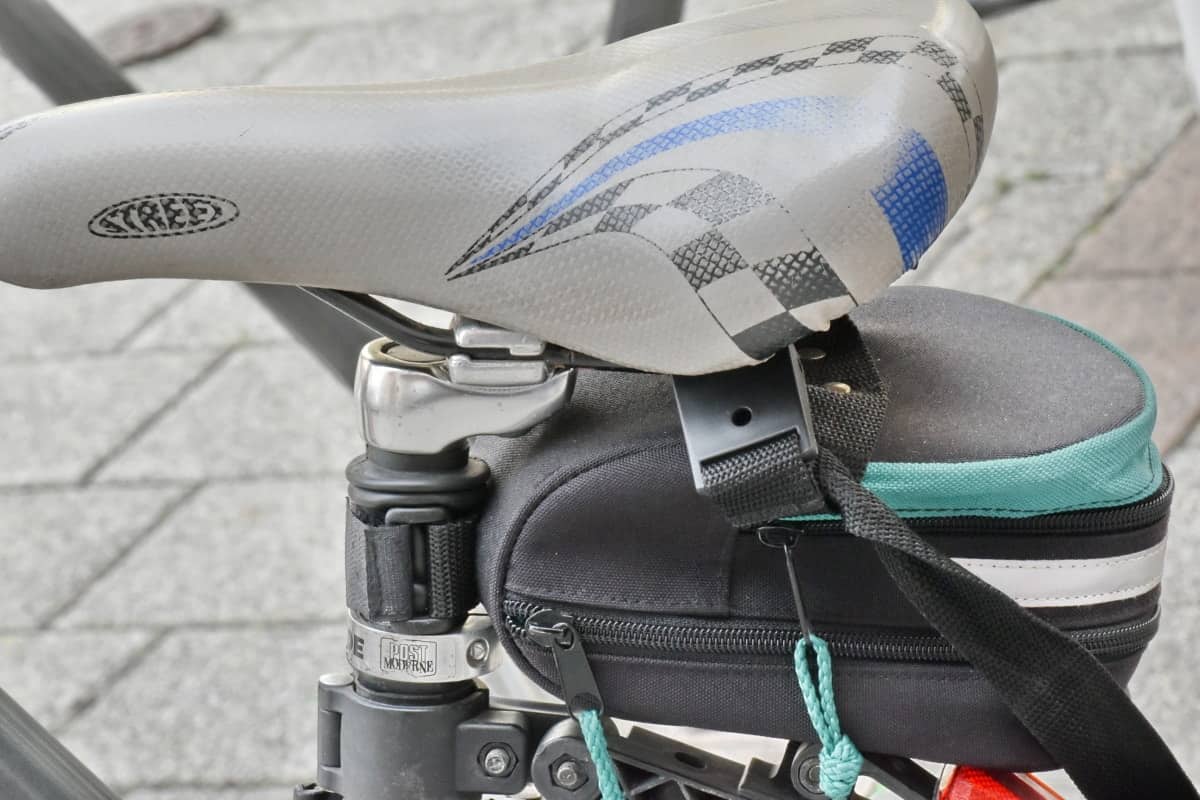 Things To Consider
Equipped with our top 15 picks for saddlebags, there are some things to consider before you buy:
1. Saddle Bag Size Guide: Small, Medium or Large
With such a range of saddle bags in so many shapes, sizes, colors and such out there it can get difficult to choose.
You ultimately need to decide for what purpose you'll be using it, and whether size will affect your riding in any way, and choose accordingly.
2. Materials: Leather, Nylon, Polyester
Another important factor to be considered is what material your bag is constructed of.
Materials like leather can be susceptible to sun/water damage, where some cheaper nylon can tear easily.
You need to carefully consider the terrain you're riding in, how durable the bag needs to be, whether it is impact/water/tear proof etc and choose accordingly.
Obviously if only riding in dry conditions on roads, it does not have to be as tough, and vice versa.
3. Is A Waterproof Saddle Bag Necessary?
The rule of thumb is YES. Since many of the essential tools and kits etc are constructed of metal, they are vulnerable to weathering and rusting.
Also, if keeping valuables like phone/wallet in the bag, you'll definitely not want them getting wet. However, again it is subjective and if you'll only be riding in the dry, it is not essential.
4. What Do I Need To Carry In The Bag
While every rider is different, some being minimalists and others wanting a full repair kit for both tires and valuables on them while riding. You need to consider what you'd want to bring with you on a cycle, and choose the size accordingly.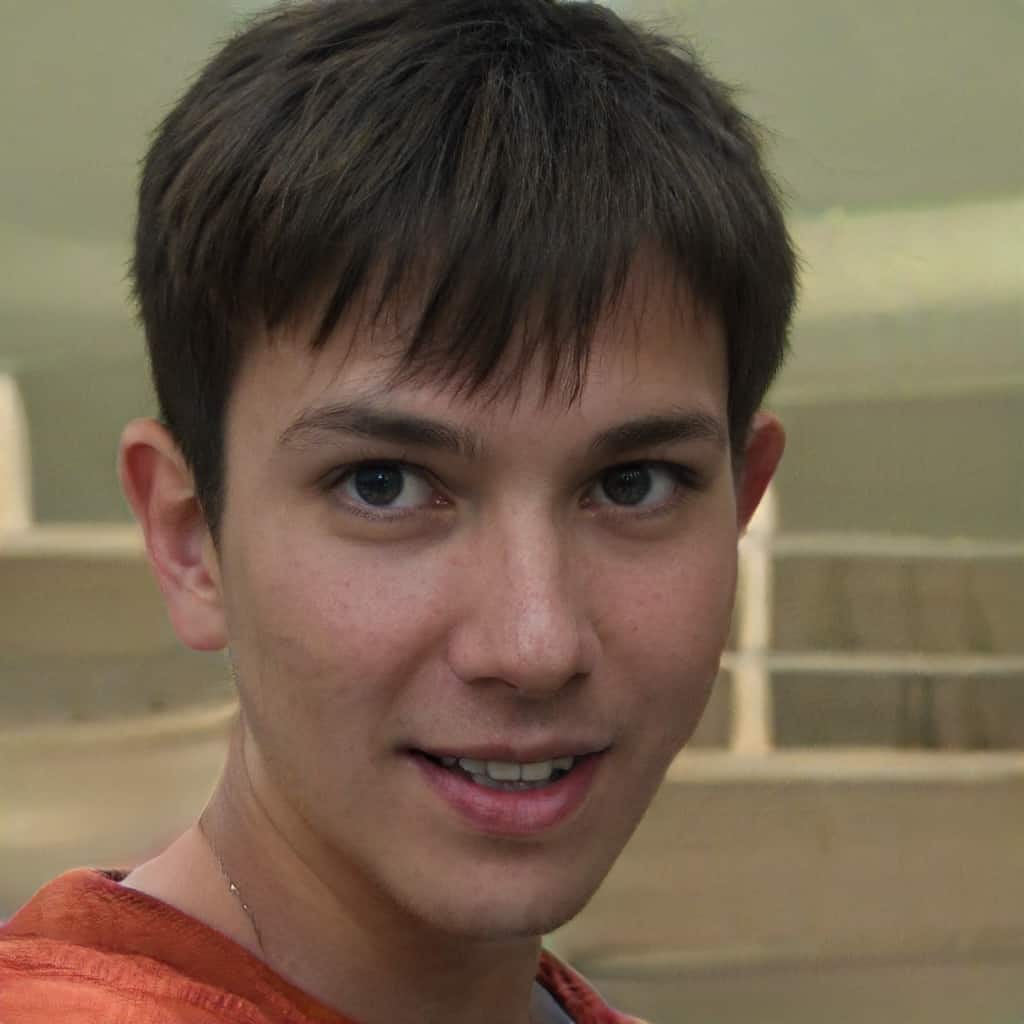 I'm James Duff, a 29-year-old from Orange, California, fueled by a lifelong passion for bikes. From childhood pedaling to exploring BMX tricks and tackling mountain trails, biking has been my constant. Now, I'm translating that love into words on this blog. Join me in discovering the thrilling world of biking, as I share insights, gear essentials, and personal adventures. Let's journey together through the exhilarating realm of cycling.