A bike trainer mat is an important piece of kit for indoor bike training, and choosing the right one for your needs should be researched in depth. But never fear, we have done the research for you and compiled a detailed list of our best nine bike trainer mats.
The nine bike trainer mats we've reviewed will cover every aspect of what to expect from each particular bike trainer mat, including ease of use, thickness, durability, grip and ease of cleaning to name but a few. Lets get started…
Photo Credit: Marco Verch – Roll Training With Zwift On Canyon-Bike under Creative Commons License
Three Reasons For Using A Bike Trainer Mat
Noise Control
Many bike trainers are loud and can be very annoying for family members in and neighbors too if you live in an apartment. A decent bike trainer mat goes a long way to dampening some of that noise, especially if you have wooden floors! A thick bike trainer mat will also reduce vibration, once again, important if you have wooden floors.
Protection of Surfaces
Not only does a good bike trainer mat protect the floor you are training on, it also protects the bottom of the bike trainer itself. For example, if you train on a concrete floor in your garage, the mat will stop friction and wear of the base of the bike trainer. This is also of supreme importance if you rent your place and have wooden floors.
Clean Workout Area
When you train hard, you will sweat and you may spill your sports drink if your session is intense. A decent bike trainer mat will catch any drop of drink or sweat during your session and make cleaning the area afterwards a much easier, quick wipe down, experience. Especially important if you are training on a carpeted floor!
What To Consider When Buying A Bike Trainer Mat
Thickness Of The Mat
The thickness of the mat is important for various reasons. The thicker the mat, the better the sound dampening of your workout.
A thick mat also provides more protection for your floor. A thicker mat won't crease and crack and will last longer, so you get more for your money in the long term.
Cleaning The Bike Trainer Mat
Your new trainer mat should be easy to clean. You should be able to give it a quick wipe down with an appropriate cloth and cleaner.
The surface of the mat should not be too textured in order to avoid dirt build up on the mat. Keeping your mat clean will also extend it's lifespan.
Composition Of The Mat
What your bike trainer mat is made of is also an important factor in your end decision. Mats are usually made from one of the three following materials:
Vinyl Composite Mats
Vinyl composite is an extremely tough and durable material used in road construction that will provide long lasting strength and durability. Vinyl composite is strong and offers excellent anti slip properties, it can also be thoroughly cleaned without any breakdown of material.
Rubber Foam
This material is thick and soft and provides a bouncy feel. It is popular because it is low cost and easy to clean. It is not as long lasting as vinyl composite or PVC and is therefore suitable for smaller, lighter riders.
PVC
We are all familiar with PVC (Polyvinyl Chloride) It is truly one of the most widely used, durable plastics on earth. It is water resistant, extremely strong and difficult to tear and provides a firm grip on the floor.
However, PVC smells. It has a noticeable plastic smell which can linger for weeks. If this doesn't bother you and you're able to air the mat initially, it's an excellent durable, long lasting material.
Mat Size
Make sure you measure up the area around your bike trainer and compare it with the size of the mat before you buy. Take into consideration how vigorously you train, and the size of your space.
Many trainer mats are literally sized for the immediate area under the bike trainer, which is great if you train in a small area, but not so great if you sweat a lot or have a larger trainer.If you're training in your garage, for example, and have decent space around you, or you shake you head a lot while pedaling and the sweat flies, then a bigger mat like the Kinetic is a better option.
Mat Grip
Mat grip is super important. The mat should provide good enough grip to stop you and the bike moving around to much and increase stability while training.
A good grip will also prevent creasing while in the middle of tough session. The better the grip the more steady the ride will be also taking into consideration grip loss due to sweat on the mat.
The 9 Best Bike Trainer Mats
Saris CycleOps Training Mat
The Saris Cyclops Bike Training Mat is a thick and durable mat. It is very good at preventing your bike from moving around during a training session.
This mat is sweat proof, easy to clean and this heavy mat means it is excellent for absorbing sound and vibration. This mat measures 65″ x 36″.
Elite Bike Training Mat
The Elite Bike Mat is a unisex offering from this well established Italian company who have 40 years cycling experience.
This mat is made from a dense foam rubber, so it perfect for noise reduction and protection of surfaces. The Elite is waterproof, easy to clean and has excellent grip for powerful rides.
Cycling Deal Bike Trainer Floor Mat for Indoor Cycles
This mat comes in two different version, a soft version suitable for bike trainers and a high density version which is better suited to heavy workout equipment like ellipticals or spin bikes.
The soft version is a 6mm thick, new PVC, extra durable offering which is perfect for hardwood floors and for preventing movement of the bike trainer during a workout.
SuperMats High Density Commercial Grade Mat
This mat is the most affordable and provides excellent value for money. It measures 30″ x 60″ and is made in the USA. This mat weighs 13lbs and is made from vinyl composite, so no funny odors.
The thickness of this mat provides very good noise and vibration dampening and offers excellent protection for surfaces and base of the bike trainer. It is also easy to clean.
Kinetic Bike Mat by Kurt
The Kinetic is an excellent choice of mat for a number of reasons. It uses closed cell PVC foam which provides extra noise dampening and floor protection.
It is an impressive half an inch thick, so it handles a hardcore training session very well. It is supple enough to be rolled up and measures 79″ by 36″. An excellent choice for intense workouts.
RevTime Heavy Duty Fitness Mat
This large heavy duty mat is made from EPDM rubber and boasts a high density, anti slip surface which is easy to clean. It also absorbs noise and vibration well, whilst protecting floor surfaces.
It is available in a number of different sizes and thicknesses (3mm and 5mm) and weighs up to 13.5lbs, depending on the size you choose. It is multi purpose and can be used for a variety of fitness machines.
Wahoo KICKR Multi-Purpose Bike Trainer Mat
The Wahoo Kickr is popular choice for indoor bike training, as are the Wahoo Bike Trainers. It is water-resistant, anti-slip and noise dampening. The extra grip makes it good choice to prevent movement of bike trainer while riding.
The Wahoo is 0.2″ thick with a beveled edge, so it reduces risk of tripping and tearing the edges. Is easy to clean, and catch any sweat or sports drink spills. It is a decent size, measuring 78″ by 36″.
AmazonBasics High Density Bike Trainer Mat
You can't go wrong with this AmazonBasics trainer mat. It is a highly durable mat that comes in three different sizes. It is made from high density PVC and has a slightly textured surface for improved grip. It is wipe clean and noise reducing.
The smallest of the three measures 72″ by 30″, is an impressive 0.3 inches thick and weighs 7.2lbs. It has the added bonus of being backed by an AmazonBasics 1 year warranty.
In Closing
If you are serious about your indoor bike training, then you are undoubtedly serious about the equipment you buy. Hopefully this guide provides you with enough information to help you make an informed decision about your chosen bike trainer mat. Happy pedaling!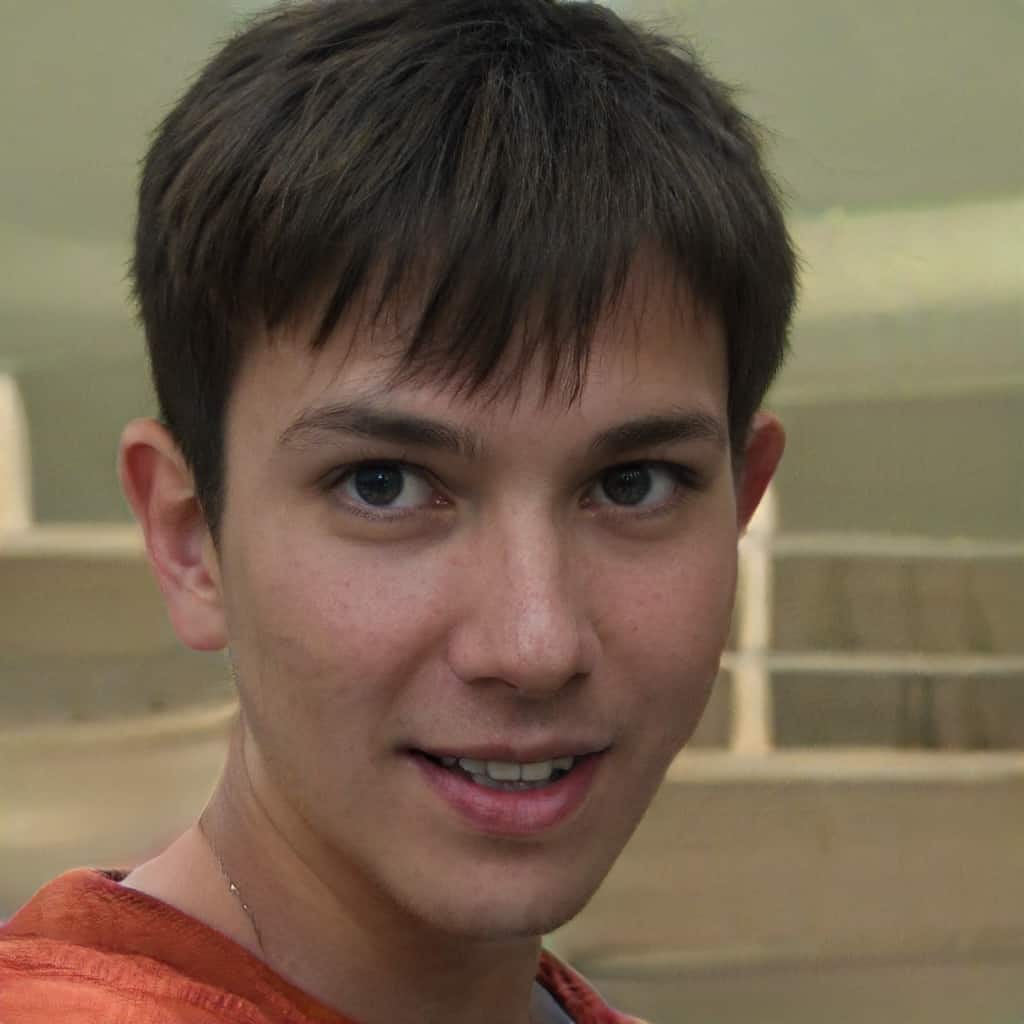 I'm James Duff, a 29-year-old from Orange, California, fueled by a lifelong passion for bikes. From childhood pedaling to exploring BMX tricks and tackling mountain trails, biking has been my constant. Now, I'm translating that love into words on this blog. Join me in discovering the thrilling world of biking, as I share insights, gear essentials, and personal adventures. Let's journey together through the exhilarating realm of cycling.